01.02.2013 | Ausgabe 4/2013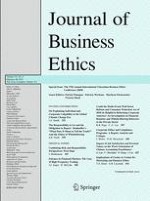 Implications of
Caritas in Veritate

for Marketing and Business Ethics
Zeitschrift:
Autoren:

Thomas A. Klein, Gene R. Laczniak
Wichtige Hinweise
Adapted from a presentation to the 17th Annual Vincentian Conference on Business Ethics, DePaul University, Chicago, IL, October 15, 2010. An earlier draft of this article was presented at the 16th Annual International Symposium on Business, Ethics, and Society, IESE, Barcelona, Spain, in May 2010 and an abridged version of that, "
Caritas in Veritate
: Updating Catholic Social Teachings for Macromarketing and Business Strategy," was published as a short Communications Note in the
Journal of Macromarketing, 30
:3 (September 2010):293−296.
Abstract
In an effort to assess the latest thinking in the Roman Catholic Church on economic matters, we examine the newest encyclical by Pope Benedict XVI,
Caritas in Veritate
(Charity in Truth) for guidance concerning marketing and business strategy. Core ethical values, consistent with historical Catholic Social Teachings (CST), are retained. However, some important nuances are added to previous treatments, and, reflecting the mind of the current Pontiff, certain points of emphasis are shifted to account for recent global developments. Key areas of consistency and differences (as we perceive them) are spelled out along with some brief commentary on the evolution of the CST position on matters of importance to business decision makers. We close our analysis with a brief discussion of how the lessons of the encyclical can be applied to selected marketing problems embedded with ethical issues, including some criteria for evaluating marketing programs. Finally, we note some editorial commentary published in the wake of the letter's release along with our own summation.