04.02.2017 | Paper | Ausgabe 5/2017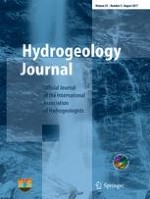 Improved barometric and loading efficiency estimates using packers in monitoring wells
Zeitschrift:
Autoren:

Scott B. Cook, Wendy A. Timms, Bryce F.J. Kelly, S. Lee Barbour
Abstract
Measurement of barometric efficiency (BE) from open monitoring wells or loading efficiency (LE) from formation pore pressures provides valuable information about the hydraulic properties and confinement of a formation. Drained compressibility (
α
) can be calculated from LE (or BE) in confined and semi-confined formations and used to calculate specific storage (
S
s
).
S
s
and
α
are important for predicting the effects of groundwater extraction and therefore for sustainable extraction management. However, in low hydraulic conductivity (
K
) formations or large diameter monitoring wells, time lags caused by well storage may be so long that BE cannot be properly assessed in open monitoring wells in confined or unconfined settings. This study demonstrates the use of packers to reduce monitoring-well time lags and enable reliable assessments of LE. In one example from a confined, high-
K
formation, estimates of BE in the open monitoring well were in good agreement with shut-in LE estimates. In a second example, from a low-
K
confining clay layer, BE could not be adequately assessed in the open monitoring well due to time lag. Sealing the monitoring well with a packer reduced the time lag sufficiently that a reliable assessment of LE could be made from a 24-day monitoring period. The shut-in response confirmed confined conditions at the well screen and provided confidence in the assessment of hydraulic parameters. A short (time-lag-dependent) period of high-frequency shut-in monitoring can therefore enhance understanding of hydrogeological systems and potentially provide hydraulic parameters to improve conceptual/numerical groundwater models.