11.03.2019 | Ausgabe 4/2019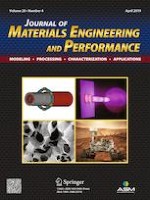 Improved Corrosion Resistance of Ni-Co Coatings Prepared by Electrodeposition with Large Centrifugal Acceleration
Zeitschrift:
Autoren:

Xiaoyun Hu, Ningsong Qu
Wichtige Hinweise
Publisher's Note
Springer Nature remains neutral with regard to jurisdictional claims in published maps and institutional affiliations.
Abstract
A higher Co content in Ni-Co coatings leads to better corrosion resistance to a certain degree. In this paper, centrifugal acceleration was introduced in the electrodeposition of Ni-Co coatings in order to obtain improved Ni-Co coatings with high Co content. With different centrifugal accelerations, the Co content, morphology, preferred coating orientation, microhardness, and wear and corrosion resistance were examined. Under large centrifugal acceleration, a maximal Co content of 38.25% was obtained according to the EDS results, which was higher than that obtained using normal electrodeposition. The SEM images indicated that the morphology of the prepared Ni-Co coatings with the highest Co content was smoothened. In addition, the microhardness of Ni-Co coatings with increased Co content was improved to about 530HV, which was hardly achieved under normal electrodeposition. Most of all, based on the polarization curve and EIS results, the corrosion resistance was significantly enhanced as the Co content reached the maximum. In general, corrosion resistance of the deposited Ni-Co coatings can be improved with large centrifugal acceleration.