04.07.2019 | Ausgabe 14/2019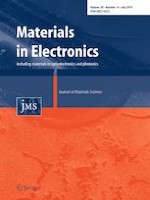 Improved electrical properties and good thermal luminescent stability of Sm3+-doped Sr1.90Ca0.15Na0.90Nb5O15 multifunctional ceramics
Autoren:

Shenglan Hao, Jinhong Li, Qingbo Sung, Lingling Wei, Zupei Yang
Wichtige Hinweise
Publisher's Note
Springer Nature remains neutral with regard to jurisdictional claims in published maps and institutional affiliations.
Abstract
Sm
3+
doped Sr
1.90
Ca
0.15
Na
0.9
Nb
5
O
15
(SCNN:
x
Sm
3+
) multifunctional ferroelectric ceramics with pure tetragonal tungsten bronze phase were synthesized via the conventional solid-state reaction method. The dielectric, ferroelectric characteristics and luminescent behaviors were systematically studied. The electrical properties suggested that a moderate Sm
3+
doping could enhance the electrical performances. The orange-reddish emission originated from the transition of
4
G
5/2
 → 
6
H
7/2
,
4
G
5/2
 → 
6
H
5/2
and
4
G
5/2
 → 
6
H
9/2
was observed under excitation wave of 406 nm. The strongest emission intensities were obtained at the Sm
3+
doping content of 0.010. The degree of thermal quenching for the composition with
x
 = 0.010 was relatively lower and the normalized emission intensity continued still 80% from room temperature to 150 °C. Besides, the transmittance in visible spectra of the SCNN:
x
Sm
3+
ceramics could be improved obviously, which was up to 50% at the doping amount of 0.010. These results show that the SCNN:
x
Sm
3+
multifunctional ferroelectric niobates have promising potential in electric-optical devices.