12.02.2020 | Original Contribution | Ausgabe 3/2020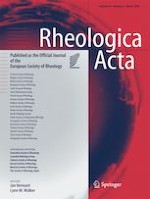 Improved gelation of polysaccharides with the formation of phase-separated networks using the giant squid hydrolysates
Zeitschrift:
Autoren:

Ling Chen, Xiangyu Liu, Yan Yang, Changhu Xue, Yong Xue
Wichtige Hinweise
Electronic supplementary material
Publisher's note
Springer Nature remains neutral with regard to jurisdictional claims in published maps and institutional affiliations.
Abstract
Fish protein hydrolysates have garnered much attention owing to their beneficial properties and potential application. In this study, the effect of different hydrolysis times (4 h, 8 h) of the giant squid hydrolysates (GSHs) on rheological properties and microstructure of konjac glucomannan-κ-carrageenan-locust bean gum gel (P gel) was observed in this study. Rheological measurement showed that GSH-P gels obtained higher viscoelastic modulus and stronger interaction, corresponding to the micro-phase separation of polysaccharides-proteins/peptides and large junction zones, as observed by confocal laser scanning microscopy. The molecular weight distribution and ζ-potential results indicated that the molecular weight and charge density of 4 h-GSH was higher than those of 8 h-GSH, resulting in a greater degree of phase separation from polysaccharides. In conclusion, GSHs can be used as a reinforcing agent for polysaccharide gels to adjust the gel texture, providing a theoretical basis for the development of new gel products.
×