01.06.2015 | Ausgabe 6/2015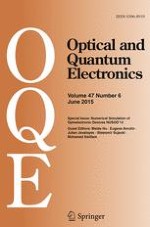 Improved performance of colour shift keying using voronoi segmentation for indoor communication
Zeitschrift:
Autoren:

Alak Halder, Abhirup Das Barman
Abstract
We analyze the performance of IEEE 802.15.7 standard colour shift keying (CSK) modulation for visible-light indoor wireless optical communication system. Judiciously combining the available wave lengths for red, green and blue LEDs indoor wireless communication at constant intensity can be made with the energy efficient next generation lighting system. Design of multilevel CSK constellation for high bit rate transmission is a challenging problem. In this work, Voronoi segmentation is employed for decoding
\(M\)
-CSK constellation and system performance is evaluated. Monte Carlo simulation shows superiority of our method over the other existing CSK constellation decoding in terms of better received SNR and symbol error rate. Inter symbol interference (ISI) is the chief source of degrading performance in communication with 2D LED chip. Simple linear equalization by LMS and RLS is found suitable to mitigate ISI and provide improved symbol error rate performance and increased field of view in the receiver.