17.05.2016 | Original Paper | Ausgabe 9/2016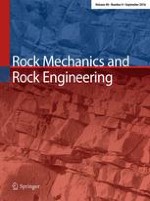 Improved Porosity and Permeability Models with Coal Matrix Block Deformation Effect
Zeitschrift:
Autoren:

Yinbo Zhou, Zenghua Li, Yongliang Yang, Lanjun Zhang, Qiangqiang Qi, Leilei Si, Jinhu Li
Abstract
Coal permeability is an important parameter in coalbed methane (CBM) exploration and greenhouse gas storage. A reasonable theoretical permeability model is helpful for analysing the influential factors of gas flowing in a coalbed. As an unconventional reservoir, the unique feature of a coal structure deformation determines the state of gas seepage. The matrix block and fracture change at the same time due to changes in the effective stress and adsorption; the porosity and permeability also change. Thus, the matrix block deformation must be ignored in the theoretical model. Based on the cubic model, we analysed the characteristics of matrix block deformation and fracture deformation. The new models were developed with the change in matrix block width
a
. We compared the new models with other models, such as the Palmer–Manson (P–M) model and the Shi–Durucan (S–D) model, and used a constant confining stress. By matching the experimental data, our model matches quite well and accurately predicts the evolution of permeability. The sorption-induced strain coefficient
f
differs between the strongly adsorbing gases and weakly adsorbing gases because the matrix block deformation is more sensitive for the weakly adsorbing gases and the coefficient
f
is larger. The cubic relationship between porosity and permeability overlooks the importance of the matrix block deformation. In our model, the matrix block deformation suppresses the permeability ratio growth. With a constant confining stress, the weight of the matrix block deformation for the strongly adsorbing gases is larger than that for weakly adsorbing gases. The weight values increase as the pore pressure increases. It can be concluded that the matrix block deformation is an important phenomenon for researching coal permeability and can be crucial for the prediction of CBM production due to the change in permeability.