06.11.2019 | Ausgabe 23/2019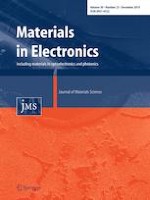 Improved solution-processed Cu2ZnSnS4 solar cells using a temporary Ag layer
Autoren:

Kang Gu, Ruiting Hao, Jie Guo, Abuduwayiti Aierken, Xinxing Liu, Faran Chang, Yong Li, Guoshuai Wei, Bin Liu, Lu Wang, Shuaihui Sun, Xiaole Ma
Wichtige Hinweise
Publisher's Note
Springer Nature remains neutral with regard to jurisdictional claims in published maps and institutional affiliations.
Abstract
A 25 nm thick Ag thin film was sputtered between the Cu
2
ZnSnS
4
(CZTS) absorber and Mo electrode to improve the back contact in CZTS solar cells. The CZTS absorber was fabricated via a cost-effective N,N-dimethylformamide-based solution method. X-ray diffraction and Raman spectroscopy demonstrated that Ag diffused into the CZTS and partially substituted Cu, which resulted in an increased lattice constant
a
and grain size. Ag doping of CZTS (ACZTS) reduced both the Sn-loss and the presence of voids. An ACZTS photovoltaic device (ITO/i-ZnO/CdS/ACZTS/Mo) was fabricated and showed higher EQE than the CZTS device over the wavelength range of 450–800 nm. The open circuit voltage increased (
V
oc
) from 543 to 631 mV, the short circuit current density (
J
sc
) increased from 10.36 to 14.37 mA, and the efficiency increased from 2.02 to 3.43% after sputtering the Ag layer. This is mainly because Ag functions as a temporary protective layer that made a tighter combination between Mo and the CZTS absorber.