01.04.2021 | Ausgabe 4/2021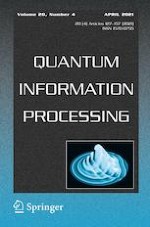 Improved statistical fluctuation analysis for twin-field quantum key distribution
Zeitschrift:
Autoren:

Jooyoun Park, Jonghyun Lee, Jun Heo
Wichtige Hinweise
Publisher's Note
Springer Nature remains neutral with regard to jurisdictional claims in published maps and institutional affiliations.
Abstract
The decoy state scheme is the most widely studied quantum key distribution protocol to detect existence of eavesdropping. Twin-field quantum key distribution (TF-QKD) is a promising protocol for realizing secret key sharing over long distances. However, the secret key rate becomes relatively low considering the finite-size effect. In this study, the statistical fluctuation analysis of the four-intensity decoy-state TF-QKD system proposed in a recent study (Zhang et al. in Phys Rev A 95:012333, 2017) is considered, and its performance is compared with the results of the Gaussian approximation and Chernoff bound methods. Numerical simulations show that the suggested method shows a considerable improvement in both the key generation rate and transmission distance over the Chernoff bound method under actual experimental environment. We find that the scheme increases secret key rate 1.04–4.06 times and transmission distances 10–18 km farther. We also present optimized parameters for Gaussian, Chernoff, and our scheme.