26.01.2017 | Ausgabe 4/2017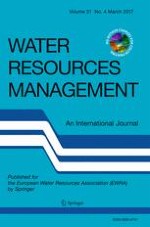 Improved Understanding on the Searching Behavior of NSGA-II Operators Using Run-Time Measure Metrics with Application to Water Distribution System Design Problems
Zeitschrift:
Autoren:

Feifei Zheng, Zhexian Qi, Weiwei Bi, Tuqiao Zhang, Tingchao Yu, Yu Shao
Wichtige Hinweise
Highlights
• Proposed metrics successfully reveal the underlying searching behavior of NSGA-II's operators
• NSGA-II operators efficiently drive the fronts initially, followed by slow improvements.
• SBX and SPX are robust in finding the fronts for WDS design problems
• SBX possess great ability in extending the front and NVX showed overall worst performance
Abstract
In recent years, multi-objective evolutionary algorithms (MOEAs) have been widely used to handle various water resources problems. One challenge within MOEAs' applications is a lack of understanding on how various operators alter a MOEA's behavior to achieve its final performance (i.e., MOEAs are black-boxes to practitioners), and hence it is difficult to select the most appropriate operators to ensure the MOEA's best performance for a given real-world problem. To address this issue, this study proposes the use of the run-time measure metrics to reveal the underlying searching behavior of the MOEA's operators. The proposed methodology is demonstrated by the non-dominated sorting genetic algorithm II (NSGA-II, a widely used MOEA in water resources) with five commonly used crossover operators applied to six water distribution system design problems. Results show that the simulated binary crossover (SBX) and the simplex crossover (SPX) operators possess great ability in extending the front and finding Pareto-front solutions, respectively, while the naive crossover (NVX) strategy exhibits the overall worst performance in identifying optimal fronts. The obtained understanding on the operators' searching behavior not only offers guidance for selecting appropriate operators for real-world water resources problems, but also builds fundamental knowledge for developing more advanced MOEAs in future.