15.05.2019 | Ausgabe 6/2019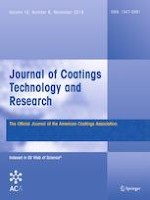 Improvement in corrosion resistance of WE43 magnesium alloy by the electrophoretic formation of a ZnO surface coating
Zeitschrift:
Autoren:

J. E. Qu, M. Ascencio, L. M. Jiang, S. Omanovic, L. X. Yang
Wichtige Hinweise
This paper was presented at the 2018 European Technical Coatings Congress on June 26–29, 2018, in Amsterdam, The Netherlands.
Publisher's Note
Springer Nature remains neutral with regard to jurisdictional claims in published maps and institutional affiliations.
Abstract
A highly active Mg alloy, WE43, was electrophoretically coated by ZnO nanoparticles followed by heat treatment with the aim of decreasing its initial corrosion resistance for possible applications as biodegradable body implants. The investigation of the corrosion behavior of the coated WE43 surface was performed by electrochemical impedance spectroscopy in a phosphate-buffered saline solution (PBS). It was found that the highest corrosion protection resistance was achieved when the coating was formed at a cell voltage of 3 V during a 210 min deposition time. The corrosion protection efficiency of this coating was excellent, above 99.9% during a 6 h of immersion in PBS. The coating was found to be polycrystalline with a preferential growth direction along the c-axis, and the outer layer was composed of complex compounds containing oxides, carbonates, and hydroxides of Zn and Mg. The deposited ZnO nanoparticles were observed to be fused to an integral coating by heat treatment and thus provided excellent physical barrier against transport of corrosion species.