01.04.2015 | Ausgabe 2/2015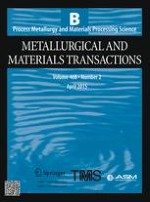 Improvement of Resistance of MgO-Based Refractory to Slag Penetration by
In Situ

Spinel Formation
Zeitschrift:
Autoren:

Huijun Wang, Björn Glaser, Du Sichen
Wichtige Hinweise
Manuscript submitted October 10, 2014.
Abstract
MgO-
in situ
spinel substrate was prepared at 1773 K (1500 °C) using colloidal alumina suspension and coarse MgO as raw materials. While the addition of 10 mass pct colloidal alumina had limited effect, addition of 20 mass pct colloidal alumina into the MgO matrix improved greatly the resistance of the substrate against the slag penetration at 1873 K (1600 °C). The improvement was found to be mainly related to the formation of solid phases, CaO·Al
2
O
3
and CaO·MgO·Al
2
O
3
at the grain boundaries due to slag-spinel reaction. Putting the reacted substrate into contact again with new slag revealed no appreciable new slag penetration. The results showed a potential solution to improve the resistance of MgO-based refractory to slag penetration and to improve steel cleanness.