09.03.2018 | Ausgabe 5/2018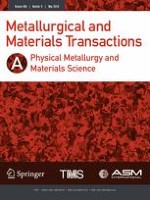 Improvement of Superplasticity in High-Mg Aluminum Alloys by Sacrifice of Some Room Temperature Formability
Zeitschrift:
Autoren:

H. Jin, B. Shalchi Amirkhiz, D. J. Lloyd
Wichtige Hinweise
Manuscript submitted July 31, 2017.
Abstract
The mechanical properties of fully annealed Al-4.6 wt pct Mg alloys with different levels of Mn and Fe have been characterized at room and superplastic forming (SPF) temperatures. The effects of Mn and Fe on the intermetallic phase, grain structure, and cavitation were investigated and correlated to the formability at different temperatures. Although both Mn and Fe contribute to the formation of Al6(Mn,Fe) phase, which refines the grain structure by particle-stimulated nucleation and Zener pinning, their effects are different. An increasing Mn reduces the room temperature formability due to the increasing number of intermetallic particles, but significantly improves the superplasticity by fine grain size-induced grain boundary sliding. Meanwhile, the Fe makes the constituent particles very coarse, resulting in reduced formability at all temperatures due to extensive cavitation. A combination of high Mn and low Fe is therefore beneficial to SPF, while low levels of both elements are good for cold forming. Consequently, the superplasticity of high-Mg aluminum alloys can be significantly improved by modifying the chemical composition with sacrifice of some room temperature formability.