11.02.2017 | Ausgabe 9-10/2017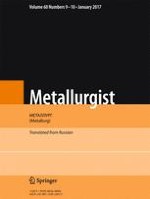 Improvement of the Waelz Process for Slag Components Based on Solid-Fuel Combustion Mechanisms
Zeitschrift:
Autoren:

V. I. Matyukhin, O. V. Matyukhin, V. V. Shatsillo, A. V. Matyukhina, O. S. Koshcheeva
Wichtige Hinweise
Translated from Metallurg, No. 10, pp. 26–32, October, 2016.
Drying, heating, and combustion of lumps of coke in a Waelz kiln produces gases released with active combustion of carbon in the oxidizing zone in a counterflow regime with air blast entering through the kiln discharge end. Under conditions of a charged layer of lumps of coke and materials with occurrence of them at a surface from the direction of air stream supply, there is initially development of oxidation processes with significant release of heat and an increase in charge temperature. After charging, particles of solid components descend into a lower layer and a new portion of movable material is charged. There is almost no gas movement, and oxygen concentration is close to zero. As a result of this, oxidation processes within a layer slow down considerably with a reduction in heat liberated, and under conditions of a steady-state temperature regime, there is temperature equalization throughout the cross section of lumps of charge. With a limited capacity for pelletizing starting materials due to a shortage of factions less than 0.4 mm, the pelletizing time under conditions of a drum pelletizer 3 m in diameter and 6 m long is 7.4 min, with an overall path covered by particles of 103 m, and the degree of development of this process does not exceed 17.41% with a change in average granule diameter from 10.64 to 11.06 mm. With introduction into a charge composition of peat, there is an improvement of material pelletizing capacity with increased intensity of heat transfer to fired granules within a kiln and an improvement in strength properties. There is an increase in intensity of heat exchange processes in a charge layer with improvement of contacts between ore and carbon particles. On heating of ore-peat briquettes to 1000–1050°C, there is internal heating and there is an excess concentration of CO within exhaust gases in the range up to 300–320°C. The presence within the composition of heated materials of metal oxides provides development of reduction in a stream of carbon monoxide followed by oxidation (after burning carbon with gas phase oxygen). The use of these measures in implementing the Waelz process will make it possible to increase the yield of zinc oxide by 5–10% with an increase in unit productivity by 10–15% and a reduction in specific coke consumption by 5–7%.