01.05.2013 | Original Article | Ausgabe 1/2013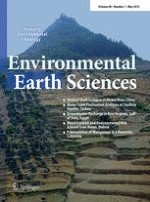 Improvement test on frost resistance of vegetation-concrete and engineering application of test fruitage
Zeitschrift:
Autoren:

Liu Daxiang, Xu Wennian, Cheng Zunlan, Zhou Zhengjun, Cai Xianyang, Zhao Bingqin
Abstract
Currently available vegetation-concrete is not satisfactory for application in alpine and cold areas. The loss rates of weight and resonance-frequency are both more than 50 % after 30 freeze–thaw cycles. In order to improve the frost resistance of vegetation-concrete, this study chose five kinds of admixtures and then performed single-mixed and orthogonal tests for comparison and optimization. The composition of the optimum scheme is fly ash (FA):silica fume (SF):air-dried pine needles of
Pinus armandii Franch
(PNP):fibers of
Trachycarpus fortunei
(FT) = 12:20:3:5 (weight ratio), and the recommended mixing amount is between 6 and 9 % of soil weight. In practical ecological restoration projects, not only could the new mixed-admixture reinforce frost resistance, but it also has no significant influence on the porosity and pH of the vegetation-concrete.