01.08.2014 | Ausgabe 8/2014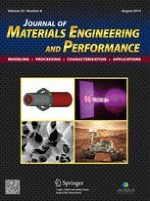 Improvements in Mechanical Properties of 319 Al Alloy Engine Blocks Through Cost-Effective Solution Heat Treatment
Zeitschrift:
Autoren:

A. Lombardi, C. Ravindran, R. MacKay
Wichtige Hinweise
This paper was developed from the 2014 HTS-Bodycote Best Paper in Heat Treating. The ASM Heat Treating Society established the Best Paper in Heat Treating Award in 1997 to recognize a paper that represents advancement in heat treating technology, promotes heat treating in a substantial way, or represents a clear advancement in managing the business of heat treating. The award, endowed by Bodycote Thermal Process-North America, is open to all students, in full time or part-time education, at universities (or their equivalent) or colleges. It also is open to those students who have graduated within the past 3 years and whose paper describes work completed while an undergraduate or post graduate student. The subject matter of the paper is required to cover any aspect of research or development applied to the fields of heat treatment, surface engineering, hot isostatic pressing (hip), metallurgical coatings, testing, or materials processing, including any production process, information technology, or relevant management or business issues.
Abstract
The use of Al engine blocks has increased significantly to improve vehicle fuel efficiency. However, the gray cast iron cylinder liners cause the development of large tensile residual stress along the cylinder bores which necessitates the optimization of mechanical properties in this region to prevent premature engine failure. This study compared the microstructure of T4-treated Al billet castings of varying cooling rate to that of the cylinder region of T4-treated (current production schedule) Al engine blocks. The aim of this study was to develop a cost-effective small scale heat treatment optimization method for engine block production. Comparisons in microstructure between the engine block and the billet castings were carried out using optical and scanning electron microscopy. The results suggest that the microstructure and hardness at the top, middle, and bottom of the cylinder were similar to those of each representative billet casting, indicating that heat treatment resulted in successful replication of the engine block locations. In addition, tensile testing revealed that the YS and UTS increased slightly following T4 treatment for all billet castings, which was also observed at the middle of the engine block cylinder bridge. As such, this method can be an effective forerunner for future heat treatment optimization in Al engine block production.