2018 | OriginalPaper | Buchkapitel
Improving Design Understanding of Inclusivity in Autonomous Vehicles: A Driver and Passenger
Taskscape

Approach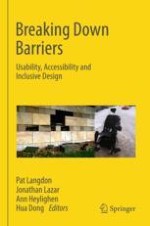 Erstes Kapitel lesen
Autoren: M. Strickfaden, P. M. Langdon
Abstract
Recent developments in autonomous vehicle technology now make SAE Levels 3–5 vehicles (Walker Smith in SAE levels of driving automation.
http://​cyberlaw.​stanford.​edu/​blog/​2013/​12/​sae-levels-driving-automation
, 2016) a realisable goal for transportation over the next 10 years. In particular, SAE Level 3 (conditional automation) automates the main aspects of driving including steering, accelerating and braking on the basis that the driver will frequently respond to a request to intervene. It is likely that in the coming 5 years Level 4 (high automation) will handle all aspects of driving even if a human driver does not intervene. It is also likely that autonomous vehicles will be available in various forms, including conventionally equipped contemporary Original Equipment Manufacturers' (OEMs) cars and public transport 'pods' with no conventional controls. Public perception of such developments has been sampled more frequently in the past 3 years and this reveals increasing awareness of the key technologies and positivity towards introduction. However, while attitudes appear to be changing rapidly, the nature of this awareness throughout the population is partial and opinions vary with methods of sampling. We examine data regarding the public's understanding of how autonomously capable vehicles could be used to benefit the inclusive population, including those with capability impairments; their carers, and those who require transportation to support dependent family members. We then use a driver and passenger
taskscape
approach for the analysis of the perceived benefits of use and barriers to use in these populations. This analysis is made in the context of existing transportation conditions and citizen's needs, and leads towards a tangible conceptual design criterion that may be implemented by design engineers.