27.06.2019 | Ausgabe 14/2019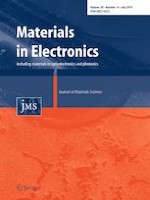 Improving edge quality and optical transmittance of Ag films on glass substrates by selective nanosecond pulsed laser ablation using various scanning methods
Autoren:

Baojia Li, Huang Li, Lijing Huang, Yilun Wang, Shuangshuang Li, Naifei Ren
Wichtige Hinweise
Publisher's Note
Springer Nature remains neutral with regard to jurisdictional claims in published maps and institutional affiliations.
Abstract
Selective laser ablation (SLA) of silver (Ag) films, which were deposited on glass substrates by radio frequency (RF) magnetron sputtering, was performed by using a 532 nm nanosecond (ns) pulsed laser. Two kinds of simple and mask-free SLA strategies featured by two new scanning paths (i.e. frame-typed serial scanning, FTSS, and frame-line combined scanning, FLCS) were proposed to improve the edge quality and optical transmittances of the SLA patterns. The effects of laser scanning speed (
v
), hatch distance (
HD
) and scanning path on edge quality of the laser-ablated grooves and SLA patterns were systematically studied. The results indicated that compared with the conventional line-typed cyclic scanning (LTCS) path, which resulted in unsmooth edge with semicircle-shaped boundaries and some Ag residues, the proposed scanning paths of FTSS and FLCS produced clean and smooth edges without obvious heat-affected zone and Ag residues under the condition of using a
v
value of 15 mm/s and an
HD
value of 90 μm. As a result, the as-obtained SLA patterns exhibited relatively high optical transmittances. The simple methods of adopting the FTSS or FLCS path for improving the edge quality during SLA and thus the optical transmittance of SLA patterns may have great potential application in various fields.