07.11.2019 | Electronic materials | Ausgabe 5/2020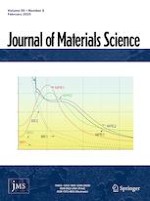 Improving field emission properties of vertically aligned carbon nanotube arrays through a structure modification
Zeitschrift:
Autoren:

Arun Thapa, Katherine L. Jungjohann, Xuewen Wang, Wenzhi Li
Wichtige Hinweise
Publisher's Note
Springer Nature remains neutral with regard to jurisdictional claims in published maps and institutional affiliations.
Abstract
Vertically aligned carbon nanotube (VACNT) emitters were synthesized directly on stainless steel substrate using DC plasma-enhanced chemical vapor deposition. Remarkable field emission (FE) properties, such as low turn-on electric field (
E
TO
 = 1.40 V/μm) and low threshold electric field (
E
TH
 = 2.31 V/μm), were observed from VACNT arrays with long length and moderate density. The FE performance was significantly enhanced by a uniquely bundled structure of VACNTs formed through a simple water treatment process. The FE properties of VACNTs were further improved by coating the exterior of CNTs with a uniform layer of crystalline SnO
2
nanoparticles; the
E
TO
and
E
TH
were reduced to 1.18 and 2.01 V/μm, respectively. The enhancement of FE properties by SnO
2
coating can be attributed to the morphological change of VACNTs caused by the solution phase coating process. The coated samples also exhibited an improved FE stability which is attributed to the enhancement of the mechanical strength and chemical stability of the VACNTs after the SnO
2
coating. The VACNT emitters with characteristic features such as a conductive substrate, low contact resistance between the VACNTs and the substrate, uniform coating, and bundled morphology can be ideal candidates for FE devices.