30.04.2020 | Ausgabe 7/2020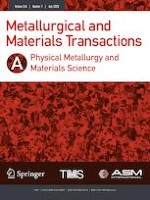 Improving High-Temperature Strength of Ti-6Al-2.5Mo-1.5Cr-0.5Fe-0.3Si Titanium Alloy by Cryogenic Pre-treatment and Laser Peening
Zeitschrift:
Autoren:

Jie Sheng, Shu Huang, Muxi Liu, Fengze Dai
Wichtige Hinweise
Manuscript submitted November 15, 2019.
Publisher's Note
Springer Nature remains neutral with regard to jurisdictional claims in published maps and institutional affiliations.
Abstract
The plastic deformation behavior and microscopic strengthening mechanism of Ti-6Al-2.5Mo-1.5Cr-0.5Fe-0.3Si (TC6) titanium alloy treated by the combination of cryogenic pre-treatment (CT) and laser peening (LP) during a high-temperature tensile testing were investigated. The residual stress and full-width-half-maximum (FWHM) values were determined by X-ray diffraction. In addition, micro-structural evolution in the subsurface was characterized by optical microscopy (OM) and transmission electron microscopy (TEM). It was found that the yield strength of CT-LPed samples was 14.09, 29.46, and 23.37 pct higher than that of the LPed samples at 400 °C, 500 °C, and 600 °C, respectively, due to less thermal relaxation of compressive residual stress (CRS) and more refined grains. Furthermore, widely distributed dislocation walls and tangled dislocations in CT-LPed samples verified the strengthening effects induced by the combination of CT and LP. A novel "paw-shaped" structure which was adhered stably on the grain boundaries was a direct evidence of the strengthening effects. The unmovable dislocation jogs generated by multi-direction dislocation movement and the cross-slip structure were believed to be two important factors to improve the high-temperature strength of TC6 titanium alloy.