01.02.2017 | Research Paper | Ausgabe 2/2017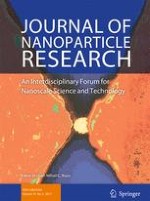 Improving precursor adsorption characteristics in ATR-FTIR spectroscopy with a ZrO2 nanoparticle coating
Zeitschrift:
Autoren:

Jaeseo Park, Jihun Mun, Jae-Soo Shin, Jongho Kim, Hee Jung Park, Sang-Woo Kang
Wichtige Hinweise
Jaeseo Park and Jihun Mun contributed equally to this work.
Abstract
Nanoparticles were applied to a crystal surface to increase its precursor adsorption efficiency in an attenuated total reflection Fourier transform infrared (ATR-FTIR) spectrometer. Nanoparticles with varying dispersion stabilities were employed and the resulting precursor adsorption characteristics were assessed. The size of the nanoparticles was <100 nm (TEM). In order to vary the dispersion stability, ZrO2 nanoparticles were dispersed in aqueous solutions of different pH. The ZrO2 dispersion solutions were analyzed using scanning electron microscopy (SEM) while particle distribution measurements were analyzed using electrophoretic light scattering (ELS) and dynamic light scattering (DLS) techniques. ZrO2 nanoparticles dispersed in solutions of pH 3 and 11 exhibited the most stable zeta potentials (≥+30 or ≤−30 mV); these observations were confirmed by SEM analysis and particle distribution measurements. Hexamethyldisilazane (HMDS) was used as a precursor for ATR-FTIR spectroscopy. Consequently, when ZrO2 nanoparticle solutions with the best dispersion stabilities (pH 3 and 11) were applied to the adsorption crystal surface, the measurement efficiency of ATR-FTIR spectroscopy improved by ∼200 and 300%, respectively.