05.04.2019 | Original Contribution | Ausgabe 5/2019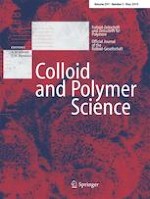 Improving the conductivity and permselectivity of ion-exchange membranes by introduction of inorganic oxide nanoparticles: impact of acid–base properties
Zeitschrift:
Autoren:

D. V. Golubenko, R. R. Shaydullin, A. B. Yaroslavtsev
Wichtige Hinweise
Publisher's note
Springer Nature remains neutral with regard to jurisdictional claims in published maps and institutional affiliations.
Abstract
In the present paper, the influence of acid–base properties of inorganic particles in ion-exchange membrane-based nanocomposites on their physicochemical and transport properties was investigated. For this purpose, particles of Zr, Ti, and Si oxides have been synthesized in situ in the system of pores and channels of the membranes. Depending on the acid–base properties of oxides, introduction of nanoparticles can increase or decrease the water uptake, conductivity, and selectivity. A new approach to cross-linking of ion-exchange membranes by incorporating ZrO2 particles into their matrix is proposed. Such cross-linking provides an improvement of swelling, conductivity, and salt permselectivity of the membrane in Na+-form. These parameters are important for successful application of such materials in direct and reverse electrodialysis, electrodeionization, and diffusion dialysis. For example, incorporation of 10 wt% of zirconia leads to a "cross-linking" of the membrane, i.e., binding of 45–50% of sulfonic groups, accompanied by a decrease of the water uptake by more than twofold and an increase of apparent transport numbers.
×