07.04.2021 | Ausgabe 11-12/2021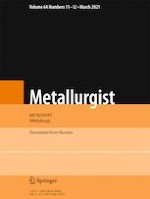 Impurity Distribution During Electrolytic Refining of Antimony
Zeitschrift:
Autoren:

E. N. Selivanov, S. V. Sergeeva, A. A. Korolev, K. L. Timofeev, S. A. Krayukhin, K. V. Pikulin
Wichtige Hinweise
Translated from Metallurg, Vol. 64, No. 11, pp. 82–87, November, 2020.
Results of electrolysis of antimony (99.56% Sb) in a sulfate-fluoride electrolyte are provided. Electrolysis parameters and distribution of 20 associated elements between the cathode metal, sludge, and electrolyte are determined. Phase composition of the sludge formed is established, and it is shown that presence of intermetallic compounds (NiSb and NiSb2) in refined metal promotes transfer of nickel into sludge. A balance is provided for antimony and controlled elements (Fe, Ni, As, Pb, Sn) for the electrolysis products. Volumes of electrolyte involved in electrowinning with an insoluble anode and solution utilization are substantiated. A production scheme for preparation of antimony grade Su00 is proposed and established. The scheme includes stages of pyrometallurgical refining, anode casting, electrolysis, electro-winning with an insoluble anode, and deposition of impurities (neutralization). Direct extraction of antimony into cathode metal in the electrolysis stage is 97.9%.