2020 | OriginalPaper | Buchkapitel
In Capital We Trust: The Eurozone: A Congeries of Material Norms Without a Constitution?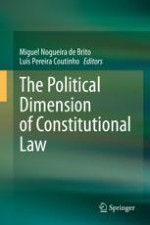 Erstes Kapitel lesen
Autor: Agustín José Menéndez
Abstract
This chapter reconstructs the content of the key norms and practices constituting and disciplining public power in the Eurozone. On the one hand, the fundamental substantive norms uphold the primacy of private property, entrepreneurial freedom and sound money. On the other hand, a series of procedural norms fragment, enervate and pulverise the power held by representative institutions and decision-making processes, and result in the selective empowerment of collectives of executives, central banks and key actors in the financial sector. The abstract and concrete weight assigned to economic freedoms, the multiplication of decision-making procedures alternative to representative decision-making, and the entrenchment of structural biases in favour of private property and entrepreneurial freedom have largely "taken the risk out of democracy" by fragmenting, enervating and pulverising public power.