2018 | OriginalPaper | Buchkapitel
47. In Chaotic Situations in Preschool Institutions, Do Leaders Reach Through the Game?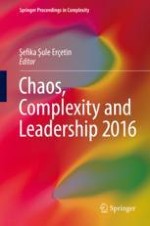 Erstes Kapitel lesen
Autor: Behiye Ertaş
Abstract
This study was conducted taking into account the chaotic situations that frequently occur in schools in Turkey. Within the scope of the study, 34 "teacfhers who work in the kindergartens in Yozgat in 2016–2017 academic year were asked about the situations that would create chaos in their classes." Class environments are social constructs in which chaotic situations can emerge, and leaders may emerge depending on the starting points of these chaotic situations. When the circumstances are considered in this context, it is not possible to predict when a preschool class will go into chaos, who can assume the leadership role accordingly, and the consequences of these situations. Given the chaotic situations of the classes in this study, games were prepared taking into account the "processes that are expected to be drawn in the leadership profile" of Erçetin ŞŞ, Açıkalın ŞN, Bülbül MŞ (
2013
). A multi-dimensional approach to leadership in chaotic environments. In: Chaos and complexity theory for management: Nonlinear dynamics in the "Multidimensional Approach to Chaos Environment and Leadership" studies.