31.10.2017 | Ausgabe 12/2017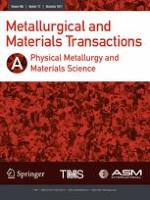 In-Plane Anisotropy in Mechanical Behavior and Microstructural Evolution of Commercially Pure Titanium in Tensile and Cyclic Loading
Zeitschrift:
Autoren:

Subhasis Sinha, N. P. Gurao
Wichtige Hinweise
Manuscript submitted February 25, 2017.
Abstract
Tensile and cyclic deformation behavior of three samples oriented at 0, 45, and 90 deg to the rolling direction in the rolling direction–transverse direction (RD–TD) plane of cold-rolled and annealed plate of commercially pure titanium is studied in the present investigation. The sample along the RD (R0) shows the highest strength but lowest ductility in monotonic tension. Although ultimate tensile strength (UTS) and elongation of samples along 45 and 90 deg to the RD (R45 and R90, respectively) are similar, the former has significantly higher yield strength than the latter, indicating different strain-hardening behavior. It is found that the R90 sample exhibits the highest monotonic ductility as well as fatigue life. This is attributed to a higher propensity for twinning in this sample with the presence of multiple variants and twin intersections. Cyclic life is also influenced by the high tendency for detwinning of contraction twins in this orientation. Elastoplastic self-consistent (EPSC) simulations of one-cycle tension-compression load reversal indicate that the activity of pyramidal 〈
c
+
a
〉 slip and extension twinning oscillates during cyclic loading that builds up damage in a cumulative manner, leading to failure in fatigue.