2014 | OriginalPaper | Buchkapitel
10.
In Situ

Biotransformation of Contaminants in Sediments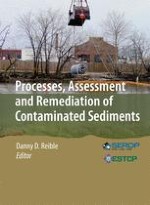 Erstes Kapitel lesen
Autoren: David W. Himmelheber, Joseph B. Hughes
Verlag: Springer New York
Abstract
Challenges to sediment remediation include not only the sheer scope of contamination but also technical limitations and escalating costs associated with cleanup. The development of
in situ
sediment remediation technologies, mirroring the development of successful
in situ
groundwater remediation approaches, has recently been identified as a priority research need (SERDP and ESTCP, 2004) and could result in treatments that are more effective compared to traditional methods. Implementation of technically feasible and cost-efficient
in situ
remediation approaches, such as
in situ
biotransformation, provides numerous potential advantages which could contribute to successful contaminated sediment management. Most notably,
in situ
biotransformation can directly reduce contaminant concentrations and/or toxicity. When occurring naturally,
in situ
biotransformations could serve as a key component for management strategies based on monitored natural recovery (MNR) and could potentially be incorporated into capping and combined remedy designs. In other scenarios, engineering may be required to stimulate particular microbial populations and/or manipulate environmental conditions to optimize biotransformation (and biodegradation) activity.