2014 | OriginalPaper | Buchkapitel
12.
In situ

Morphologic, Elemental and Isotopic Analysis of Archean Life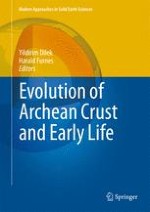 Erstes Kapitel lesen
Autor: Dr. David Wacey
Verlag: Springer Netherlands
Abstract
A number of key questions in Archean palaeobiology require study at the micrometre (µm) to nanometre (nm) scale. These include: identifying the transition from a prebiotic world to one containing life; distinguishing true signs of life from abiotic artifacts; identifying the first appearance of important groups of microbes (e.g. cyanobacteria) and metabolic pathways (e.g. sulfur processing, iron processing, anoxygenic and oxygenic photosynthesis); and, determining the transition from a purely prokaryotic world to one including eukaryotes. Here I outline four complementary
in situ
microanalysis techniques that are now providing new evidence in our quest to solve these important scientific questions. The integrated use of these techniques is illustrated by way of a case study from the 3430 Ma Strelley Pool Formation of Western Australia.