04.06.2018 | Topical Collection: Advances in Materials Manufacturing and Processing | Ausgabe 4/2018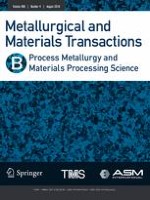 In Situ

Observation of Calcium Aluminate Inclusions Dissolution into Steelmaking Slag
Zeitschrift:
Autoren:

Keyan Miao, Alyssa Haas, Mukesh Sharma, Wangzhong Mu, Neslihan Dogan
Wichtige Hinweise
Manuscript submitted August 10, 2017.
Abstract
The dissolution rate of calcium aluminate inclusions in CaO-SiO2-Al2O3 slags has been studied using confocal scanning laser microscopy (CSLM) at elevated temperatures: 1773 K, 1823 K, and 1873 K (1500 °C, 1550 °C, and 1600 °C). The inclusion particles used in this experimental work were produced in our laboratory and their production technique is explained in detail. Even though the particles had irregular shapes, there was no rotation observed. Further, the total dissolution time decreased with increasing temperature and decreasing SiO2 content in the slag. The rate limiting steps are discussed in terms of shrinking core models and diffusion into a stagnant fluid model. It is shown that the rate limiting step for dissolution is mass transfer in the slag at 1823 K and 1873 K (1550 °C and 1600 °C). Further investigations are required to determine the dissolution mechanism at 1773 K (1500 °C). The calculated diffusion coefficients were inversely proportional to the slag viscosity and the obtained values for the systems studied ranged between 5.64 × 10−12 and 5.8 × 10−10 m2/s.