11.10.2017 | Ausgabe 12/2017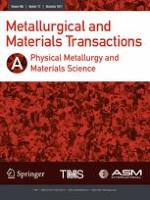 In Situ

Observation of Kinetic Processes of Lath Bainite Nucleation and Growth by Laser Scanning Confocal Microscope in Reheated Weld Metals
Zeitschrift:
Autoren:

Gaojun Mao, Rui Cao, Xili Guo, Yong Jiang, Jianhong Chen
Wichtige Hinweise
Manuscript submitted January 24, 2017.
Abstract
The kinetic processes of nucleation and growth of bainite laths in reheated weld metals are observed and analyzed by a combination of a laser confocal scanning microscope and an electron backscattering diffraction with a field emission scanning electron microscope. The results indicate that the surface relief induced by phase transformation is able to reveal the real microstructural morphologies of bainite laths when viewed from various angles. Five nucleation modes and six types of growth behaviors of bainite laths are revealed. The bainite lath growth rates are measured to vary over a wide range, from 2 μm/s to higher than 2000 μm/s. The orientations of the bainite laths within a prior austenite grain are examined and denoted as different variants. On the basis of variant identification, the reason is analyzed for various growth rates which are demonstrated to be affected by (1) the density of the high-angle misorientation in it, (2) the included angle between habit planes of different variants, and (3) the direction of lath growth with respect to the free (polished) surface.