25.08.2016 | Ausgabe 6/2016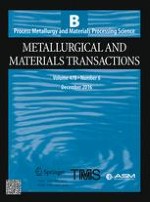 In Situ

Observation of MgO Inclusions in Liquid Iron-Aluminum Alloys
Zeitschrift:
Autoren:

PhD Student Haoyuan Mu, Postdoctoral Researcher Tongsheng Zhang, Exchange-Program Student Liang Yang, Exchange-Program Student, Undergraduate Student Rodrigo R. Xavier, Professor Richard J. Fruehan, Assistant Professor Bryan A. Webler
Wichtige Hinweise
Manuscript submitted July 13, 2016.
Abstract
This study showed that MgO inclusions can be stable in liquid iron with elevated Al and it illustrated an important role of vaporization in the evolution of inclusions. Previous studies have shown that dissolved Al reduces MgO from slags and refractories, leading to spinel (MgAl
2
O
4
) inclusions. The elevated Al content of newer steels raises the possibility that MgO inclusions can be stable. In this work, MgO inclusions were produced and observed in an Fe-Al alloy. The inclusions in the liquid alloy at 1873 K (1600 °C) were observed
in situ
with a Confocal Laser Scanning Microscope (CLSM). Two types of experiments were performed: one where only a metal sample was melted and the other where the sample was in contact with a liquid, MgO-saturated slag. When no slag was present, the MgO inclusions shrank and disappeared at 1873 K (1600 °C). No inclusions were observed
in situ
during cooling or in post-CLSM analysis. When the MgO-saturated slag was present, the inclusion sizes were essentially constant and MgO was observed on the surface of post-CLSM samples. Analysis of the results showed that MgO can be stable in 1873 K (1600 °C), but that its presence depends on the rate of removal of Mg due to vaporization and the supply of Mg due to slag/metal or refractory/metal reactions.