2015 | OriginalPaper | Buchkapitel
4.
In Situ

Ti–Si Intermetallic-Based Composites by Selective Laser Melting (SLM) Additive Manufacturing (AM): Designed Materials and Laser-Tailored

In Situ

Formation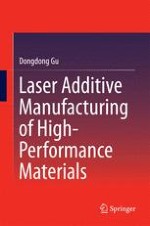 Erstes Kapitel lesen
Autor: Prof. Dr. Dongdong Gu
Verlag: Springer Berlin Heidelberg
Abstract
Based on an integrated processing method of "Designed materials," "Laser-induced
in situ
reaction," and "Tailored mechanical performance," theTiC/Ti
5
Si
3
and TiN/Ti
5
Si
3
composite parts were produced by selective laser melting (SLM) additive manufacturing (AM) process, starting from the high-energy ball-milled SiC/Ti and Si
3
N
4
/Ti powder systems. The influence of the applied laser energy density on the densification behavior, microstructural features, microhardness, and wear property of
in situ
Ti
5
Si
3
-based composites was studied. The occurrence of balling phenomenon at a low-laser energy density combined with a high-scan speed and the formation of thermal cracks at an excessive laser energy input generally decreased densification rate. The
in situ
formed TiC and TiN reinforcing phases experienced a successive morphological change as the SLM processing conditions varied. The underlying metallurgical mechanisms accounted for the different growth mechanisms of TiC and TiN reinforcement during SLM process were disclosed. The
in situ
TiC/Ti
5
Si
3
and TiN/Ti
5
Si
3
composite parts prepared under the optimal SLM conditions had a near-full density, a significantly elevated microhardness (> 980 HV), a considerably low coefficient of friction (< 0.2), and a reduced wear rate. The enhanced wear resistance was attributed to the formation of adherent strain-hardened tribolayer covered on the worn surface.