05.04.2019 | Ausgabe 6/2019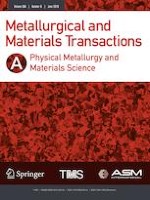 In Situ

Time-Resolved Phase Evolution and Phase Transformations in U-6 Wt Pct Nb
Zeitschrift:
Autoren:

Jianzhong Zhang, Donald W. Brown, Bjorn Clausen, Sven C. Vogel, Robert E. Hackenberg
Wichtige Hinweise
Manuscript submitted December 12, 2018.
Publisher's Note
Springer Nature remains neutral with regard to jurisdictional claims in published maps and institutional affiliations.
Abstract
In situ
time-resolved synchrotron X-ray diffraction experiments were conducted to study the fine-scale phase evolution of U-6Nb. Upon rapid heating from 125 °C to 400 °C, a reverse martensitic transformation sequence,
α
″ →
γ
o
→
γ
s
, was observed in less than 4 seconds, which represents the first direct observation of the
γ
o
→
γ
s
transformation in diffraction-based measurements. Consistent with previous
ex situ
metallography experiments, our isothermal hold experiments at 526 °C, 530 °C and 565 °C reveal two distinct reactions for the phase separation,
γ
s
→
α
-U +
γ
1
(general precipitation) followed by (
α
-U +
γ
1
) →
α
-U +
γ
1-2
(discontinuous precipitation). For the first-stage precipitation, the incubation time is determined to be ~ 50 and 100 seconds, respectively, for the isothermal aging at 526-530 °C and 565 °C. At this stage, the phase transformation is characterized by the simultaneous growth of
α
-U and
γ
1
at the expense of
γ
s
. As expected from the Arrhenius equation for the reaction rate, the determined times (~ 23 minutes) for the completion of the first-stage reaction at 526 ± 3 °C and 530 ± 3 °C are nearly twice longer than that at 565 ± 4 °C (~ 13 minutes). Over these periods of time, the Nb contents derived from a Vegard's-type relationship for
γ
1
are in the 30.2 to 32.1 and 29.2 to 30.6 at. pct ranges, and the kinetics of the precipitation at 565 ± 4 °C can be described by the classic Avrami rate equation and one-dimensional growth of a surface or grain-boundary nucleation. During the second-stage precipitation, the
γ
1
phase continues to enrich in Nb as it gradually evolves toward the
α
+
γ
1-2
metastable state (up to 47 at. pct over a period of 172 minutes at 530 °C). These new and time-resolved measurements can be used to better constrain the time–temperature–transformation diagram, solute (Nb) redistribution, and transformation kinetics during the early stages of the diffusional phase transformation.