2014 | OriginalPaper | Buchkapitel
11.
In Situ

Treatment for Control of Hydrophobic Organic Contaminants Using Sorbent Amendment: Theoretical Assessments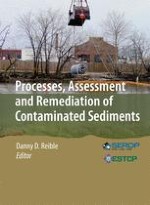 Erstes Kapitel lesen
Autoren: Yeo-Myoung Cho, David Werner, Elisabeth M.-L. Janssen, Richard G. Luthy
Verlag: Springer New York
Abstract
Sediments accumulate hydrophobic organic compounds (HOCs) such as polychlorinated biphenyls (PCBs), polycyclic aromatic hydrocarbons (PAHs), and dichlorodiphenyltrichloroethane (DDT). Sediments thus act as reservoirs, exposing HOCs to benthic biota, releasing HOCs into porewater, and contributing HOCs to the aquatic food web. It has been observed that certain sediment particle types, known as black carbon (BC), have stronger sorption capacity than inorganic particles with coatings or inclusions of natural organic matter (Ghosh et al., 2003). Char, charcoal, soot, and their derivatives are such types with strong sorption capacity. Once the HOCs are sorbed into the BCs, they become much less available than HOCs sorbed on other mineral-based particles (Ghosh et al., 2000, 2003). These findings motivated studies of a novel in situ sediment treatment strategy using carbonaceous strong sorbents such as activated carbon (AC) to sequester HOCs. Activated carbon has been selected for most studies due to its high affinity for HOCs. By incorporating AC into HOC-contaminated sediment, HOCs would be redistributed, sorbed onto AC particles, and become less available to porewater and biota.