2015 | OriginalPaper | Buchkapitel
5.
In Situ

WC-Cemented Carbide-Based Hardmetals by Selective Laser Melting (SLM) Additive Manufacturing (AM): Microstructure Characteristics and Formation Mechanisms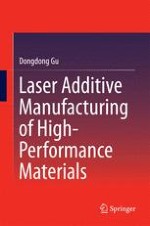 Erstes Kapitel lesen
Autor: Prof. Dr. Dongdong Gu
Verlag: Springer Berlin Heidelberg
Abstract
Selective Laser Melting (SLM) of a W–Ni–graphite powder mixture was performed to prepare
in situ
WC-cemented carbide-based hardmetals parts, using two different types of CO
2
laser and fiber laser. The WC phase was developed via a multi-laminated growth mechanism and it experienced block-shaped triangular—elliptical morphological change on decreasing the linear laser energy density of the applied CO
2
laser. As the fiber laser was used, the
in situ
formed WC crystals generally had a triangular microstructure. An increase in the applied linear laser energy density, which was realized by increasing laser power or decreasing scan speed, resulted in the coarsening of
in situ
WC crystals in both side length and thickness. The SLM additive manufactured cemented carbide based hardmetals parts possessed a sufficiently high densification level of 96.3 % and a maximum microhardness of 1870.9 HV
0.1
. The dominant metallurgical mechanisms responsible for the variations of microstructural and mechanical properties of SLM-processed hardmetals parts were proposed.