2015 | OriginalPaper | Buchkapitel
1. In Vitro Complex Shear Modulus of Bovine Muscle Tissue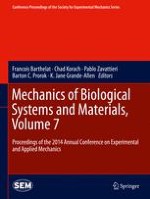 Autoren: Jennifer Hay, Sabina Cherneva
Abstract
In living tissue, there exists a reciprocal relationship between mechanical properties and function. That is, properties affect function, and function can affect properties by means of adaptation. Thus, knowledge of mechanical properties leads directly to knowledge of function. Dynamic instrumented indentation provides a way to measure the mechanical properties of soft biological tissue that is relevant, localized, and accurate.
In this work, we measured the complex shear modulus of bovine muscle tissue, submerged in saline at bovine body temperature (38 °C). The muscle tissue was significantly stiffer in the direction of the grain (
G′
= 24.4 ± 13.9 kPa) than perpendicular to it (
G′
= 11.4 ± 2.9 kPa). This was expected, because the muscle tissue naturally acts in the direction of the grain to alternately exert and relax force. The loss factor was highly consistent and independent of testing direction: tan δ = 0.34 ± 0.035. These results were consistent with what others have measured for muscle tissue using dynamic mechanical analysis (DMA).