09.03.2018 | Ausgabe 6/2018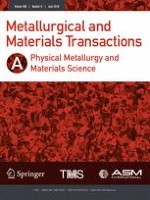 Inclusion Characteristics and Acicular Ferrite Nucleation in Ti-Containing Weld Metals of X80 Pipeline Steel
Zeitschrift:
Autoren:

Bingxin Wang, Xianghua Liu, Guodong Wang
Wichtige Hinweise
Manuscript submitted August 2, 2017.
Abstract
X80 steel weld metals with Ti contents of 0.003 to 0.13 pct were prepared by the single-pass submerged-arc welding process. The effects of Ti content in weld metals on the constituent phases of inclusions and chemical compositions of the constituent phases, as well as the potency of acicular ferrite (AF) nucleation on the inclusions were investigated. Moreover, the crystallographic orientation relationship between the AF and inclusion was examined. The results show that with an increase in Ti content, the primary constituent phases of the inclusions change from the (Mn-Al-Si-O) compound to a mixture of spinel and pseudobrookite solid solutions, and eventually to pseudobrookite. The spinel solid solution is characterized by the MnTi2O4 constituent. Compared to pseudobrookite, spinel has a lower Ti concentration, but a significantly higher Mn content. In the case of the presence of a considerable amount of spinel, the Mn element is enriched strongly in the inclusions, resulting in the development of a Mn-depleted zone (MDZ) in the matrix around the inclusions, which enhances the driving force for AF formation. AF shows the Baker–Nutting orientation relationship with MnTi2O4. The formation of MDZ and the presence of the Baker–Nutting orientation relationship promote the ability of inclusions to nucleate the intragranular AF.