2018 | OriginalPaper | Buchkapitel
15. Income and Expenditure Mismatch of Poorest of the Poor: An Analysis of Financial Requirement of Slum Dwellers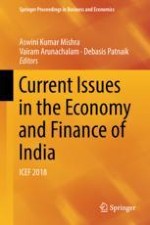 Erstes Kapitel lesen
Autoren: Firdous Ahmad Malik, D. K. Yadav, Ranu Jain
Abstract
Economic and social positioning of individuals are the prime indicators which are directly related to incomes of the households. Income and consumption expenditure determines economic stability and social well-being of the households. Income is used as a display to measure economic deprivations of the households in India. So, both the income and consumption expenditure are used to measure the overall conditioning of the households. Here the question arises weather consumer behaviour is determined more by income or expenditure. Some policy makers and economists believe that poverty can't be displayed by current income and it is not a stable measure to provide an exact description of individuals well-being (Meyer and Sullivan in The American Economic Review, 2221–2241,
2008
). Consumption expenditure is not determined by consumers current income, but the measures of consumers "permanent" income are representative by his/her ability to earn income over a longer time period and also Expectations of future earnings and wealth (Friedman in A theory of the consumption function: A study by the National Bureau of Economic Research. Princeton University Press
1957
). and the income which Friedman talks about is the annual incomes of consumers expect to earn over the years. It has been observed that income and expenditure didn't remain similar among households. Income is concerned as a good indicator of well-being for various reasons which are Housing, Food, Child care, Health care and other necessities. In low income households there is a possibility of consumption without expenditure and earnings. Income and expenditure are the two key fundamentals by which people make the best efforts to live a good life. Everyone wants to have a handsome income to live in a comfortable way. This study examines the income and expenditure pattern of slums dwellers and their financial requirements among the key financial services (i.e. savings, credit, insurance, micro-leasing and pension schemes) of Lucknow city, Findings suggest that poor people can and do save, particularly when institutional barriers to saving are cut off. Institutional polices should target poor people on the bases of poverty so that poor can get an opportunity to promote their poverty into more sustainable and inclusive wealth endorsement policies that will assist them to create own pathways out of poverty.