06.09.2017 | Original Paper | Ausgabe 12/2017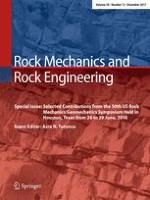 Incorporating Scale-Dependent Fracture Stiffness for Improved Reservoir Performance Prediction
Zeitschrift:
Autoren:

B. R. Crawford, M. C. Tsenn, J. M. Homburg, R. C. Stehle, J. A. Freysteinson, W. C. Reese
Wichtige Hinweise
M. C. Tsenn: Retired from ExxonMobil Upstream Research Company, Spring, TX, USA.
Abstract
We present a novel technique for predicting dynamic fracture network response to production-driven changes in effective stress, with the potential for optimizing depletion planning and improving recovery prediction in stress-sensitive naturally fractured reservoirs. A key component of the method involves laboratory geomechanics testing of single fractures in order to develop a unique scaling relationship between fracture normal stiffness and initial mechanical aperture. Details of the workflow are as follows: tensile, opening mode fractures are created in a variety of low matrix permeability rocks with initial, unstressed apertures in the micrometer to millimeter range, as determined from image analyses of X-ray CT scans; subsequent hydrostatic compression of these fractured samples with synchronous radial strain and flow measurement indicates that both mechanical and hydraulic aperture reduction varies linearly with the natural logarithm of effective normal stress; these stress-sensitive single-fracture laboratory observations are then upscaled to networks with fracture populations displaying frequency-length and length-aperture scaling laws commonly exhibited by natural fracture arrays; functional relationships between reservoir pressure reduction and fracture network porosity, compressibility and directional permeabilities as generated by such discrete fracture network modeling are then exported to the reservoir simulator for improved naturally fractured reservoir performance prediction.