01.02.2008 | Ausgabe 4/2008 Open Access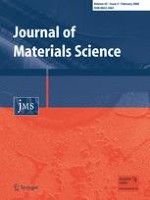 Inducing large deformation in wood cell walls by enzymatic modification
Zeitschrift:
Autoren:

Luna Goswami, Michaela Eder, Notburga Gierlinger, Ingo Burgert
Introduction
A key concept in nature is the embedding of stiff particles or fibres in a pliant matrix. Some of the biological materials are mineral–polymer composites, such as bone or nacre, others, such as plant cell walls or tendon, are polymer–polymer composites. Their extraordinary mechanical properties originate from the structural organization and chemical interaction between the components based on a strong coupling with interface polymers [
2
]. By this means, materials of both high stiffness and high toughness are created even in mineralized systems, which are anticipated to be rather brittle such as nacre [
3
] or the deep sea sponge
Euplectella
[
4
]. Hence, the nanostructural organization of biological systems can function as a source of bioinspiration for the design of new engineering materials [
2
,
5
–
7
], and/or a better understanding of the underlying principles can be used to modify the natural material to design new "bio-based" systems with tuned mechanical properties.
The native wood cell wall is a complex and highly optimized fibre composite structure. It consists of the three bio-polymers cellulose, hemicelluloses and lignin. The parallel oriented cellulose is a semicrystalline homopolymer which forms units of ∼2.5 nm thickness, the so-called microfibrils. These are embedded in the pliant matrix polymers, in which hemicelluloses have a specific mediating and coupling function. E.g. in softwood where the hemicellulose glucomannan is proposed to be associated with the cellulose fibrils and xylan with lignin [
8
]. The orientation of the cellulose microfibrils predominately dictates the mechanical behaviour of the cell wall [
9
–
11
]. An almost parallel orientation of the cellulose to the cell axis (low microfibril angle) results in a stiff but rather brittle material, whereas a high mircofibril angle leads to a less stiff but tough material [
11
] (Fig.
1
). It was recently shown for wood with a high cellulose microfibril angle (compression wood), that this material could undergo permanent plastic deformation without significant mechanical damage of the matrix. This molecular stick-slip mechanism beyond the yield point can be explained by a gliding of the cellulose fibrils, after the shear strenght of the matrix is exceeded [
1
]. Such a material behaviour would be desirable for various applications, in particular for covering complex geometries with highly deformable veneers. However, commonly used veneers are made of normal wood tissue with a small cellulose microfibril angle, which leads to cracking and buckling when complex geometries are veneered [
12
]. This substantial and cost-intensive problem might be solved, by utilizing compression wood for the veneer process [
13
]. However, mainly availability and optical aspects interfere with this kind of substitution.
×
An alternative approach is to modify the molecular structure of the commonly utilized material and induce sustained gliding of microfibrils due to a severe alteration of the fibre–matrix composition. A shortening of the aligned fibrils and a loosening of the interface between the stiff elements and the pliant matrix may alter the cell wall in a way that even normal wood becomes less stiff and shows extended plastic deformation beyond yield. In a basic study at the individual fibre level, we treated lignified cell walls with a multicomponent enzyme attacking both cellulose and xylan. Single fibre tensile tests and FT-IR microscopy were utilized to mechanically and chemically characterize the cell wall modification.
Materials and methods
Results
Swollen wood fibres without enzymatic treatment reveal mechanical properties similar to normal wood fibre properties (Fig.
2
a, b). But a statistically significant change in mechanical properties was observed when the swollen fibres were further treated with the enzyme. After enzyme treatment all fibres showed a lower strength and stiffness than the reference ones. After reaching the ultimate stress level, enzymatically treated fibres behaved in two different ways: 80% of the fibres revealed a brittle fatal fracture at much lower forces than the normal wood fibres (Fig.
3
a), but about 20% of the fibres showed a partial fracture with a further high plastic deformation up to 20% (Fig.
3
b). This relationship confirms preliminary results from numerous tests (data not shown here).
×
×
For control, fibres were treated with heat-inactivated enzymes and buffer only. No change in the mechanical properties was observed when the fibres were either treated with heat-inactivated enzymes or buffer only.
To analyze the enzymatic modification at the molecular level, FT-IR spectra were acquired on the single fibres in the native state and after enzyme treatment with previous swelling. To exclude variability and changes due to different sample thickness or composition, exactly the same fibres were measured before and after treatment. Absorbance of all observed peaks was diminished in the enzyme treated fibres compared to the reference fibres (Fig.
4
a). A reduction in the broad band around 3,368 cm
−1
, attributed to OH stretching, was observed as well as a reduction of the band at 2,900 cm
−1
, assigned to CH stretching (Fig.
4
a) [
18
]. Beside these bands, which allow no specific conclusion on the changes of the different wood polymers, also the bands in the fingerprint region (1,800–750 cm
−1
) were less intense. Bands characteristic for carbohydrates, e.g. at 1,426 cm
−1
(primarily due to CH
2
scissor motion in cellulose) [
19
], at 1,160 cm
−1
(asymmetric C–O–C bridge stretching [
20
]), at 1,108 cm
−1
(ring stretching) and bands between 1,100 and 950 cm
−1
(CO stretching [
20
]) were reduced. Beside the reported bands influenced by cellulose and hemicelluloses, the band at 1,735 cm
−1
derives mainly from contributions of xylan (C=O stretching), and the band at 809 cm
−1
from glucomannan [
20
,
21
]. Both are also reduced in the enzyme treated fibres (Fig.
4
a), indicating also a removal of xylan and glucomannan. However, we also observed a reduction of the characteristic lignin band at 1,509 cm
−1
(specific for aromatic skeletal vibration [
22
]) suggesting partial removal of lignin. To see more clearly if all three wood polymers were diminished to a similar extent, spectra were normalized on the lignin band at 1,509 cm
−1
, as this sharp band represents solely the aromatic lignin structures. After normalisation most of the bands show similar heights (Fig.
4
b), from what we conclude that all three wood polymers have been removed to a similar extent. The carbohydrate bands between 1,185 and 900 cm
−1
appear somehow sharper, which might indicate that more amorphous cellulose and/or hemicelluloses than crystalline cellulose was removed. Band positions changed only slightly (1–2 cm
−1
), concluding that the remaining wood polymers themselves are not severely changed, but the bonding environment might be slightly different.
×
Discussion
Due to enzyme treatment, mechanical behaviour of isolated fibres differed from unmodified fibres and from simply swollen fibres. A reduced ultimate stress level in enzymatic treated fibres revealed the expected mechanical function of the cellulose reinforcement in the entire cell wall. However, only 20% of the fibres showed the targeted increase in deformability, whereas 80% of the fibres revealed brittle fracture after the same enzyme treatment. In the mechanical response to the enzyme treated fibres two fracture processes may coexist, due to heterogeneity within the fibre or different enzymatic permeability along the fibre. On one hand, a high number of cellulose fibril bundles are disrupted perpendicular to the cellulose chain direction resulting in a brittle failure event before a gliding of fibrils may occur. On the other hand, even though cellulose fibril bundles are partly disrupted, fibrils start gliding due to a pronounced reduction in cross-linking between cellulose fibrils and matrix. This large deformability of fibres up to 20% indicates that a partial degradation of cellulose may enable cellulose fibril gliding in normal wood cells, so far only known for wood with high cellulose microfibril angle.
Conclusion
In this study, we approached to modify the mechanical performance of individual fibres, while retaining the integrity of the entire cell walls. Microtensile tests on individual fibres showed that the cell wall alteration resulted in a pronounced deformation for two of ten of the modified fibres. The underlying mechanisms for this specific behaviour are still to be examined, but it is assumed that mainly a modification of the amorphous cellulose chains at the surface of the microfibrils may loosen the contact between cellulose fibrils and the pliant matrix. In consequence, cellulose fibrils may start to glide after a critical stress is exceeded making such modified wood material eligible to large deformations. Such a material behaviour would be desirable for covering complex three-dimensional geometries with wood veneers. Further studies are needed to optimize the modification at the individual cell level in order to achieve a larger number of highly deformable fibres and to transfer the findings to veneer processing.
Acknowledgements
This work was supported by the "Fonds zur Förderung der wissenschaftlichen Forschung (FWF)" and an author (Notburga Gierlinger) by the APART programme of the Austrian Academy of Sciences. The authors like to thank Dr. B. Hinterstoisser, Prof. D. Haltrich and Dr. C. Felby for support at early stages of the project.
This article is distributed under the terms of the Creative Commons Attribution 4.0 International License (http://creativecommons.org/licenses/by/4.0/), which permits unrestricted use, distribution, and reproduction in any medium, provided you give appropriate credit to the original author(s) and the source, provide a link to the Creative Commons license, and indicate if changes were made.