2003 | OriginalPaper | Buchkapitel
Industrial Development and Wildlife in Arctic Ecosystems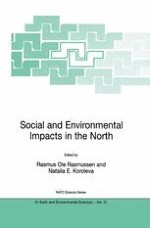 Erstes Kapitel lesen
Can Learning from the past Lead to a Brighter Future?
Autoren: David R. Klein, Margarita Magomedova
Verlag: Springer Netherlands
Enthalten in: Professional Book Archive
An overview is presented of the changing relationships, and their consequences, in the Russian Arctic and Sub-Arctic between people, industrial development, and wildlife. Our approach is to emphasize the ecosystem interactions that tie people to wildlife, and wildlife to the land, thus viewing industrial development in terms of its influence in altering ecosystem relationships. We acknowledge that ecosystems are dynamic, and that changes taking place in northern ecosystems and the wildlife relationships within them, are products of the internal dynamics of ecosystems, as well as their external influences. External influences include, in addition to industrial development, inter-annual variation in weather and long-term climatic changes. People who live outside of these systems exert external influences via social, economic, cultural, and political routes, whereas those living within northern ecosystems and dependent upon them contribute to the internal influences. We stress the importance of the complex web of relationships that characterizes northern ecosystems and the need for greater understanding of this complexity if we are to assess the consequences of external influences on these systems. Drawing on experiences with industrial development in northern regions we propose creation of regional land use plans throughout the entire circum-polar North that guide the use and possible future development of these lands. Land use plans can provide the basis for anticipating and assessing the potential complex effects of proposed developments within a regional context, inclusive of the people and their long-term relationships to the land.