01.03.2006 | Original Paper | Ausgabe 1/2006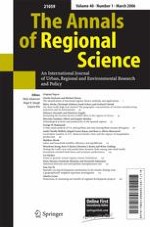 Industrial diversity and metropolitan unemployment rate
Zeitschrift:
Autoren:

Keizo Mizuno, Fumitoshi Mizutani, Noriyoshi Nakayama
Wichtige Hinweise
This study was accomplished within the organization of the Urban Revitalization of Kansai Region in FY2002, sponsored by Nihon Keizai Shinbun. An earlier version of this paper was presented at the 43rd Congress of the European Regional Science Association, 27–30 August, 2003, University of Jyvaskyla, Finland. We would like to thank both the project members and participants at the congress for their discussion and comments on the earlier version. We would especially like to thank Hitoshi Akiyama (UFJ Research Institute), Kyoichi Futagami (Osaka University), Takenori Inoki (International Japanese Culture Research Center), Yoshiaki Shikano (Doshisya University) and Michihiko Tachi (Nihon Keizai Shinbun). Part of this study was financially supported by the 21st Century COE program (the Ministry of Education, Culture, Sports, Science and Technology) of the Kobe University, Graduate School of Business Administration.
Abstract
The main goal of our study is to evaluate whether or not industrial diversity helps reduce the frictional unemployment rate of a metropolitan area. We used a data set from Japan's 118 metropolitan areas. Our analysis shows that although industrial diversity might reduce the frictional unemployment rate of a metropolitan area, its effect is not statistically significant in our model. Second, the location quotient for industries, considered to be related to types of unemployment other than frictional, has a stronger impact on unemployment rate than industrial diversity does. In particular, it was found that the location quotients for both the manufacturing and the construction industry have a negative relationship with the unemployment rate of a metropolitan area. We also discovered that the higher the percentage of graduates of post-secondary institutions there are in a metropolitan area, the lower its unemployment rate will be.