2016 | OriginalPaper | Buchkapitel Open Access
11. Industrial Ecology in Developing Countries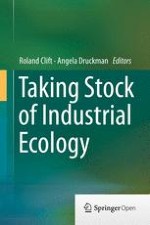 Autor: Megha Shenoy
Abstract
Sustainable development is not a simple, singular and well-tested path. It needs an interdisciplinary examination of resource use patterns, ecological heritage, demographics and cultural values. Industrial ecology, owing to its emphasis on using a holistic approach, can provide a valuable platform to draw out sustainable strategies and policies for developing countries to implement. It can offer a paradigm within which IE methods and tools can inform responses to local development challenges. Within this paradigm, sustainable industrial, rural and urban development strategies and policies in developing countries should follow from IE research and analyses.
A SWOT analysis of IE in developing countries highlights strengths of high economic growth and threats from outdated policies and inadequate industrial ecology awareness in the policy making and governing spheres. Examination of the IPAT equation in the context of developing countries highlights the role that new technological hubs such as China and India can play, the significance of increasing affluence among "new consumers" in the developing world and the role of population in managing resources sustainably.
Research in IE since its introduction to the global south around the mid-1990s has primarily focused on two concepts of IE – cleaner production and eco-industrial parks – largely due to the impetus of development organizations. Other studies using the IE lens and tools have shown the potential of the IE paradigm in developing countries. These studies have highlighted the importance of focussing on scarce resources such as water, examining the possibilities of using well-tested technologies and evaluating the long-term maintenance of new technologies and practices before recommending their implementation. New policies in the developing world can gain from the IE community in terms of assistance in simplifying and downsizing data requirements, application of solutions to contemporary sustainability challenges and framing effective policies based on IE concepts.