19.12.2016 | ORIGINAL ARTICLE | Ausgabe 1/2018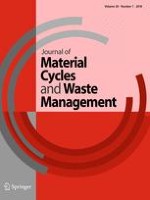 Influence factors of determining optimal organic solvents for swelling cured brominated epoxy resins to delaminate waste printed circuit boards
Zeitschrift:
Autoren:

P. Zhu, Y. Z. Yang, Y. Chen, G. R. Qian, Q. Liu
Abstract
In the previous study, organic solvent dimethyl sulfoxide (DMSO) could effectively delaminate waste printed circuit boards (WPCBs) by swelling cured brominated epoxy resins (CBER). To find more organic solvents which can swell CBER, the total and three-dimensional Hansen solubility parameters (3d-HSP) of CBER in WPCBs were calculated by a group contribution method and an equilibrium swelling degree method. During testing equilibrium swelling degree, seventeen industrial common organic solvents were used to swell CBER in WPCBs. The results were that the total solubility parameter of CBER (
δ
t
) was 24.6–26.4 (J/cm
3
)
1/2
, and 3d-HSP were that dispersion force (
δ
d
) was 20.9(J/cm
3
)
1/2
, intermolecular dipole interaction force (
δ
p
) was 11.1(J/cm
3
)
1/2
, and hydrogen-bonding force (
δ
h
) was 11.6 (J/cm
3
)
1/2
. Then, 3-cresol was chosen to swell CBER in WPCBs according to its total and 3d-HSP. Result indicated that the WPCBs were delaminated completely in 3-cresol solvent. Finally, experimental results and theoretical analysis showed that the glass transition temperature (Tg) and solubility parameter of CBER were two very important factors for choosing organic solvents to delaminate the WPCBs. In addition, interaction forces of molecular functional groups between CBER and organic solvents were also an influence factor.