30.09.2019 | Original Paper | Ausgabe 1/2020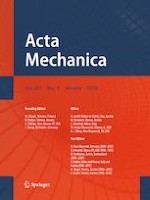 Influence of a 2D magnetic field on hygrothermal bending of sandwich CNTs-reinforced microplates with viscoelastic core embedded in a viscoelastic medium
Zeitschrift:
Autoren:

Mohammed Sobhy, Ahmed F. Radwan
Wichtige Hinweise
Publisher's Note
Springer Nature remains neutral with regard to jurisdictional claims in published maps and institutional affiliations.
Abstract
The present work is concerned with the bending analysis of viscoelastic sandwich microplates with carbon nanotubes (CNTs)-reinforced face sheets under the effects of a 2D magnetic field as well as hygrothermal conditions. The core layer is assumed to be a fully homogeneous viscoelastic material, whereas the face sheets are made of a polymer matrix stiffened by uniformly distributed or functionally graded (FG) CNTs. The applied magnetic field results in a body force (Lorentz force) that is applied to each particle of the plate. In order to take into account the size effect, the modified couple stress theory is employed containing only one length scale parameter. The viscoelastic sandwich microplate is assumed to be resting on two layers of the foundations. The first is modeled as the viscoelastic Kelvin–Voigt model. However, the second represents the elastic Pasternak shear layer. Based on the sinusoidal four-variable plate theory, four governing equations are obtained involving Lorentz force and foundation interaction. An analytical solution for the obtained equations is presented to get the displacements and stresses of the reinforced sandwich plates. The present solution is examined by introducing comparison examples. Influences of the geometric parameters, material length scale parameter, magnetic field parameter, damping parameters, temperature rise, moisture concentration, and foundation coefficients on the bending of the FG-CNTs-reinforced viscoelastic sandwich microplates are discussed.