01.09.2014 | Original Article | Ausgabe 5/2014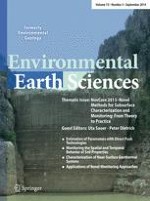 Influence of a reservoir chain on the transport of riverine inorganic carbon in the karst area
Zeitschrift:
Autoren:

Fushun Wang, Cong-Qiang Liu, Baoli Wang, Yuanxiu Yu, Xiaolong Liu
Abstract
The Wujiang River is an important tributary to the Changjiang River that has been intensively impounded for hydropower exploitation. To understand the potential impact of reservoir construction on the riverine inorganic carbon transport, seasonal longitudinal sampling was conducted in four reservoirs Hongjiadu (HJD), Dongfeng (DF), Suofengying (SFY) and Wujiangdu (WJD) along the Wujiang River from April 2006 to January 2007. Results indicated that damming the river induced an obvious discontinuity of water chemistry in the warmer seasons.
δ
13
C of dissolved inorganic carbon (DIC) ranged from −3 to −11.4 ‰, likely as the results of photosynthesis, respiration and carbonate weathering. During periods of thermal stratification, the addition of CO
2
from respiration to hypolimnion and the deep water release for hydropower generation led to higher
p
CO
2
downstream, as well as
13
C depletion in DIC and undersaturated to calcite. An estimate of DIC budget indicated that only DF reservoir was the sink for DIC while reservoirs HJD, SFY and WJD were the sources for DIC. However, when the retained water was taken into account, for the reason of water storage occurring mainly in HJD and DF, all reservoirs became the sources for DIC with exporting rates of 26.68, 7.97, 6.22 and 11.80 % for HJD, DF, SFY and WJD, respectively.