22.03.2019 | Ausgabe 4/2019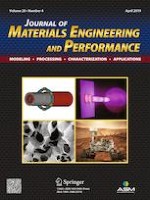 Influence of Austempering Temperature and Time on the Microstructure and Mechanical Properties of Ductile Iron Weldment Using Developed Coated Electrode
Zeitschrift:
Autoren:

T. Sarkar, Ajit Kumar Pramanick, S. K. Sahoo, T. K. Pal, Akshay Kumar Pramanick
Wichtige Hinweise
Publisher's Note
Springer Nature remains neutral with regard to jurisdictional claims in published maps and institutional affiliations.
Abstract
Sound welded joints of ductile iron were first made by developing coated electrodes as well as weld procedure. The weldments were then austenitized at 900 °C for 2-h holding time followed by austempering at 300 and 350 °C for three different holding times (1.5, 2 and 2.5 h) at each austempering temperature. The influence of austempering temperature and time on the microstructural and mechanical properties was studied. Microstructural characterization, phase analysis, microhardness and mechanical properties were performed to understand the effect of austempering heat treatment on microstructure, austempering kinetics and mechanical properties of welded joints. In spite of significant variation in microstructures among all the three zones of DI weldment before austempering, the response of both weld metal and HAZ to austempering heat treatment similar to a base metal was noted. However, a significant variation in matrix structures (bainitic ferrite, retained austenite) as well as graphite nodules among the three zones was observed with changing the austempering temperature and holding time. Also, 100% joint efficiency of the welded joints was achieved at both 300 and 350 °C for 2-h holding time. Hardness and charpy impact toughness mostly depended on the volume fraction of retained austenite and carbon content. Based on the results of tensile and charpy impact testing, 350 °C and 2-h holding time could be considered as an optimum austempering condition for ADI weldment.