13.10.2016 | Ausgabe 3/2017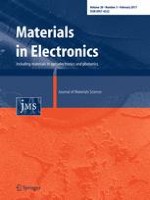 Influence of CdS dopant on oxygen vacancies and Ce3+ formation in CeO2–ZnO nanocomposites: structural, optical and catalytic properties
Autoren:

Ayesha Imtiaz, Muhammad Akhyar Farrukh
Abstract
Endosulfan is the organochlorine pesticide and highly toxic to human and animal. Although its solubility is less in water but is persistent in soil. In this study, CeO
2
–ZnO nanocomposites have been prepared with hydrothermal method by using
N
-dodecyl-
N
,
N
-dimethyl-3-ammonio-1-propanesulfonate (SB3-12) zwitterionic surfactant. Cadmium sulphide was doped on CeO
2
–ZnO nanocomposites to enhance its catalytic efficiency. The structural characterization was carried out by using different techniques like FTIR, XRD, DLS, SEM and UV–Vis spectroscopy. Lattice contraction and decrease in oxygen vacancies was observed with increase in dopant concentration, which can be attributed to the Cd
2+
substitution on CeO
2
–ZnO nanocomposites. These alterations in nanocomposites ensues the increase in particle size along with the blue shift in band gap energy. The catalytic efficiency of nanocomposites against endosulfan increases when the oxygen vacancy concentration is higher (with decrease in dopant concentration).