24.12.2017 | Ausgabe 3/2018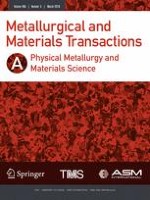 Influence of Cr and Y Addition on Microstructure, Mechanical Properties, and Corrosion Resistance of SPSed Fe-Based Alloys
Zeitschrift:
Autoren:

V. M. Suntharavel Muthaiah, Suhrit Mula
Wichtige Hinweise
Manuscript submitted June 10, 2017.
Abstract
Present work investigates the microstructural stability during spark plasma sintering (SPS) of Fe-Cr-Y alloys, its mechanical properties and corrosion behavior for its possible applications in nuclear power plant and petrochemical industries. The SPS was carried out for the Fe-7Cr-1Y and Fe-15Cr-1Y alloys at 800 °C, 900 °C, and 1000 °C due to their superior thermal stability as reported in Muthaiah
et al
. [Mater Charact 114:43–53, 2016]. Microstructural analysis through TEM and electron back scattered diffraction confirmed that the grain sizes of the sintered samples depicted a dual size grain distribution with >50 pct grains within a range of 200 nm and remaining grains in the range 200 nm to 2
µ
m. The best combination of hardness, wear resistance, and corrosion behavior was achieved for the samples sintered at 1000 °C. The high hardness (9.6 GPa), minimum coefficient of friction (0.25), and extremely low wear volume (0.00277 × 10
−2
mm
3
) and low corrosion rate (3.43 mpy) are discussed in the light of solid solution strengthening, grain size strengthening, grain boundary segregation, excellent densification due to diffusion bonding, and precipitation hardening due to uniformly distributed nanosize Fe
17
Y
2
phase in the alloy matrix. The SEM analysis of the worn surface and corroded features corroborated well with the wear resistance and corrosion behavior of the corresponding samples.