17.04.2017 | Ausgabe 5/2017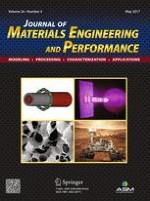 Influence of Cu Addition on the Structure, Mechanical and Corrosion Properties of Cast Mg-2%Zn Alloy
Zeitschrift:
Autoren:

M. Lotfpour, M. Emamy, C. Dehghanian, K. Tavighi
Abstract
Effects of different concentrations of Cu on the structure, mechanical and corrosion properties of Mg-2%Zn alloy were studied by the use of x-ray diffraction, optical microscopy, scanning electron microscopy, energy dispersive spectroscopy, standard tensile testing, polarization and electrochemical impedance spectroscopy (EIS) measurements. The average grain size of the alloy decreased from above 1000 μm to about 200 μm with 5 wt.% Cu addition in as-cast condition. Microstructural studies revealed that Mg-2Zn-
x
Cu alloys matrix typically consists of primary α-Mg and MgZnCu and Mg(Zn,Cu)
2
intermetallics which are mainly found at the grain boundaries. The results obtained from mechanical testing ascertained that Cu addition increased the hardness values significantly. Although the addition of 0.5 wt.% Cu improved the ultimate tensile strength and elongation values, more Cu addition (i.e., 5 wt.%) weakened the tensile properties of the alloy by introducing semi-continuous network of brittle intermetallic phases. Based on polarization test results, it can be concluded that Cu eliminates a protective film on Mg-2%Zn alloy surface. Among Mg-2%Zn-
x
%Cu alloys, the one containing 0.1 wt.% Cu exhibited the best anti-corrosion property. However, further Cu addition increased the volume fraction of intermetallics culminating in corrosion rate enhancement due to the galvanic couple effect. EIS and microstructural analysis also confirmed the polarization results.